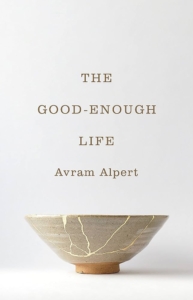 We live in a society driven by a relentless pursuit of greatness, where we are constantly pushed to attain the highest levels of wealth, power, and fame. This relentless fixation on greatness leads to stress and anxiety, strains our interpersonal connections, fosters extensive political and economic disparities, and contributes to the deterioration of our natural environment. In his book "The Good-Enough Life" author and educator Avram Alpert explores the idea of whether embracing our limitations could pave the way to a more satisfying existence and a more harmonious society. He explains why the relentless pursuit of competition within our social structure ultimately yields no real advantages for anyone and offers a vision of an alternative way of life—an inclusive, good-enough life for all. In this episode of Bridging the Gaps I speak with Dr Avram Alpert
Dr Avram Alpert is a writer and teacher. He has worked at Princeton and Rutgers Universities, and is currently a research fellow at the New Institute in Hamburg. His work has appeared in publications such as the New York Times, the Washington Post, and Aeon.
We begin our conversation by discussing the concept of 'Good-Enough,' a central theme in the book. Following that, we explore the notion of 'greatness.' In particular, I engage Dr. Avram Alpert in a conversation about his perspective on the achievements of individuals who attain success and fame through their dedication and hard work. We also talk about people who have done great things and made society better. Then our discussion shifts toward the idea of fostering a more equitable and just society, emphasising the potential benefits of reduced competition among individuals. We explore the possibility of a society where each person can rediscover a sense of purpose and meaning, and have their material and emotional needs met.
Complement this discussion with Reclaiming Human Intelligence and "How to Stay Smart in a Smart World" with Prof. Gerd Gigerenzer and then listen to Cloud Empires: Governing State-like Digital Platforms and Regaining Control with Professor Vili Lehdonvirta