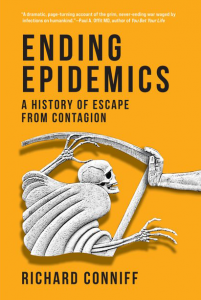 It is difficult to imagine a not-so-distant past when deadly diseases were a routine part of life. Even more astonishing is the fact that during that time, prevailing medical beliefs attributed these diseases to harmful miasmas, bodily humors, and divine dyspepsia. However, a groundbreaking revelation occurred with the discovery of the world of microorganisms, which led to the understanding that these tiny organisms might be responsible for transmitting and spreading diseases. These pivotal discoveries and understandings paved the way for numerous measures and techniques to prevent the transmission of infectious diseases.
The history of epidemics and humanity's progress in combating these diseases is full of captivating stories. In his new book, "Ending Epidemics: A History of Escape from Contagion," prolific author Richard Conniff outlines how our comprehension and prevention of some of the most devastating infectious diseases have advanced, consequently doubling the average life expectancy. In this episode of Bridging the Gaps, I speak with Richard Conniff, delving into moments of inspiration and innovation, decades marked by unwavering determination, and periods of profound suffering that have spurred individuals, institutions, and governments to take action in the pursuit of public health.
Richard Conniff is a prolific author of several non-fiction books and many articles for magazines such as National Geographic, Smithsonian, and Time. He is a contributing opinion writer for the New York Times, and a former commentator on NPR's "All Things Considered". He has won the National Magazine Award. He has also written and presented nature programmes for National Geographic television, the Discovery channel and the BBC.
Our conversation begins with an exploration of how communities in old days grappled with epidemics, given their limited understanding of the causes behind such widespread outbreaks. We delve into the intricate ways in which communities tried to comprehend and interpret illnesses before the pivotal discoveries of microorganisms and germs. An engaging segment follows, chronicling the efforts of early pioneers who harnessed the power of microscopes to identify microorganisms believed to be responsible for various diseases.
One captivating narrative we explore revolves around the remarkable utilization of cowpox to foster immunity against smallpox—an extraordinary breakthrough in the history of medicine. However, we also address the resistance encountered by these novel ideas and concepts. We then delve into the emergence of the concept of immunity, the discovery of microorganisms, and the subsequent development of vaccines and antibiotics. Additionally, we discuss the profound realization that improved sanitary conditions are indispensable for safeguarding public health.
Naturally, our conversation turns towards the recent Covid-19 epidemic, examining humanity's response to this global crisis. Richard offers a significant insight that despite our enhanced capabilities in dealing with epidemics, these formidable diseases persist and may pose future threats if we fail to remain vigilant to the dangers they present.
Complement this discussion with Cloud Empires: Governing State-like Digital Platforms and Regaining Control with Professor Vili Lehdonvirta and then listen to "Kendall Square and the Making of a Global Innovation Hub" with Robert Buderi