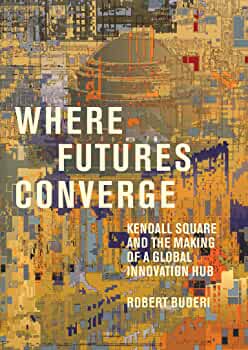 Kendall Square, situated in Cambridge, Massachusetts, has earned the reputation of being "the most innovative square mile on the planet." It serves as a vibrant epicentre for life sciences, housing renowned companies such as Biogen, Moderna, Pfizer, Takeda, and many others. Additionally, it stands as a prominent hub for technology, with giants like Google, Microsoft, IBM, Amazon, Facebook, and Apple occupying substantial portions of valuable office space within its bounds. The square is also home to a thriving community of startups, with convenient proximity to leading venture capital firms. Moreover, its proximity to Massachusetts Institute of Technology (MIT) further enhances its status as a centre for cutting-edge ideas.
In his book "Where Futures Converge: Kendall Square and the Making of a Global Innovation Hub," Robert Buderi shares interesting accounts of visionary innovators and their groundbreaking creations, spanning a remarkable two centuries. In this episode of Bridging the Gaps, I speak with Robert Buderi, exploring the distinctive ecosystem that defines Kendall Square. We discuss various cycles of transformation and reinvention that have propelled its evolution over time.
Robert Buderi is an author, journalist, and entrepreneur. He is the author of "Engines of Tomorrow, The Invention That Changed the World", and other books. He is former Editor-in-Chief of "Technology Review", and founder of the media company Xconomy.
We begin our conversation by talking about Kendall Square's geography, which means where it's located, and its history as a place known for business and innovation. We then take a closer look at the first innovators who chose Kendall Square to start their businesses and create new products and services. We also talk about the advantages of having important academic and research institutions close by and explore the relationship between industry and academia. After that, we shift our focus to the present and talk about what Kendall Square is like today. We explore the different industries, products, and services that are based there. Overall, this is an interesting and informative discussion.
Complement this discussion with "The Technology Trap" and the Future of Work" with Dr Carl Frey and then listen to Asking Better Questions for Creative Problem Solving, Innovation and Effective Leadership with Hal Gregersen